If you're not sure how to sell a car on Craigslist, it's simple. If you haven't heard of this popular listing site, you've probably been living under a rock. Craigslist launched in 1995 in San Francisco. And as of 2017, it receives an average of 50 billion page-views and 200 million postings per month. Which makes it the perfect place to sell a vehicle. Here's how:
First, prepare the proper documents. Including the title, Bill of Sale, and any state-specific forms. Next, determine a fair asking price. Then, you'll want to make your car presentable. By detailing it inside and out and ensuring it's mechanically sound. Lastly, create a Craigslist account and post your listing. 
For the best results, be sure to provide as much data as possible and include several clear photos. Let's now go over each of these steps in detail to ensure you get the most out of selling a car on Craigslist.
Quick Reference
What you'll Need to Complete a Sale
How to Price a Vehicle for a Quick Sale
Preparing your Car for Sale
Steps for Listing your Vehicle for Sale
Tips to Ensure the Best Experience
Examples of Great Listings
Examples of Bad Listings
What you'll Need to Complete a Sale
The last thing you want is to go through the entire process of finding a buyer. And then finding out you lack the necessary documents to complete the sale. The Title of Ownership to your vehicle is what proves that you're the legal owner with the rights to sell it. The term "clear" refers to a car that's clear of any liens, meaning there's no money owed to a lender. If you do still owe money on it, then you're not yet legally the owner. Because of this, you'll need to either pay it off before listing it. Or, make sure that the amount you sell it for at least matches your payoff amount.
If you do arrange a sale, you can also complete the process with payment from the buyer while sitting with a banker. He/she will verify that the loan is clear, and provide you with the title, which you can then sign over to the new owner.
While not required, a Bill of Sale is a great way to protect yourself in the event of an issue. It's also helpful for record-keeping purposes. It should include the date of the sale, the selling price, and the year, make, and model of the vehicle.  It should also show the Name and Address of both the buyer and seller.  As well as any warranty info.
State Specific Requirements
A Title is always needed, no matter the location. But there are also state-specific forms and procedures to consider. Some of these include a Maintenance Report, an Odometer or Accident Disclosure, or a State Inspection. Then there are the license plates, which in some areas stay with the vehicle. While in others, they get returned to the DMV. Be sure to contact your local DMV office to inquire about the specifics for your state.
How to Price a Vehicle for a Quick Sale
Pricing your vehicle for a fair price is one of the most important things for ensuring you attract buyers. Thankfully, there are several pricing tools available online that allow you to list it for the proper amount. These include Kelly Blue Book and NADA Guides. The great thing about these two sites is that every dealer and lending institution in the country uses them. Meaning that not only will your car be priced similarly to other options on the market. But if the buyer intends to finance the amount, it will be in-line with the value a bank would lend on it.
For NADA, start by sharing the year, make, model, and trim of your vehicle, as well as any extras. You'll also enter the zip code of your area, which checks similar options around. NADA displays the values as either Rough, Average, or Clean, as well as a Retail amount. Remember that "Retail" refers to a vehicle offered on a dealer lot. Which indicates it's been through a mechanical inspection and is detailed inside and out. A good rule of thumb is to list a private sale for about $1000 less than retail.
KBB works similarly, but displays amounts as either Fair, Good, Very Good, or Excellent. It also provides the percentage of vehicles that match each category. As an example, only 3% of cars meet the standard of "Excellent." Why does this matter? Because a lot of sellers believe their vehicle is in better shape than it is. Being honest about the condition will go a long way towards ensuring a quick sale. KBB also offers a Private Party value, which is similar to retail pricing on NADA but accounts for the lack of dealer certification.
Preparing your Car for Sale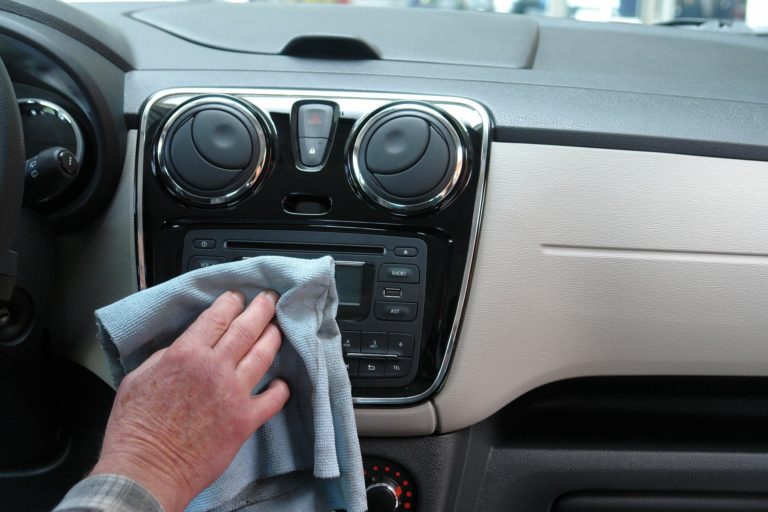 Wash the Exterior/Detail the Interior
One of the best ways to ensure a quick sale is to create an emotional connection with the buyer. A great way to do this is to create a strong first impression. How? By making it presentable with an interior detail and exterior wash. You can pay a professional service for anywhere between $50 to $300.
If you're after the most cost-effective means, you can do this yourself for next to nothing. You can also invest in some automotive cleaning products like a specialty soap, carnauba wax, and interior wipes for less than $30. Regardless, a clean car has a much better chance of selling than a dirty one.
The last thing most buyers want is to inherit someone else's problems. Imagine viewing a car yourself, and when you go to start it, it won't turn over, or the dash lights-up with several indicators. A great way to give buyers confidence is to take your car to a mechanic before listing it for sale. It's common for someone to want to have a vehicle inspected before offering payment for it. By doing this yourself, you ensure a smooth experience for both parties.
Regardless of whether you choose to fix any issues is up to you. But either way, providing any interested parties with a printout of the findings is a great way to boost confidence.
Repair Small Issues Yourself
How far you're willing to go to secure the highest price for your vehicle is up to you. But a great way to do this is to repair any small issues before showing it. These include things like dings, dents, and scratches on the exterior, or tears in the seating. The same goes for mechanical problems. Clearing a dash light due to an oil change or loose gas cap can make all the difference.
If there's noticeable body damage, you can hire an automotive body-shop to repair it for around $50. The pricing for upholstery repair is similar.
Steps for Listing your Vehicle for Sale
Head to org and click on "My Account." Create a Username and Password, and Craigslist will send a verification e-mail. Once you click the link, your account creation is complete.   
Head back to the main page and click on "Create a Posting." 
Select "For Sale by Owner."
Select "Cars and Trucks – by Owner." Note: As of April 15th, 2019, Craigslist now charges a $5 fee to list a vehicle for sale.
Fill out the required fields highlighted in green and click "Continue." Note: For examples of Good and Bad listings, continue reading.
Enter the Address of the area buyers can view the vehicle and click "Continue."
Add several images and click "Done with Images." Note: For more information on taking good photos, continue reading.
With the above steps completed, you can review your listing, enter payment details, and publish.
Tips to Ensure the Best Experience
Providing as much information as possible will ensure the buyer doesn't get blindsided by something they didn't expect. Fill in as many fields as possible and inform them of any damage to the vehicle.  As well as any mechanical issues. If it's particularly clean, be sure to mention it. If you can include a photo of the CarFax report, that's a bonus as well.
Buyers love photos. Quality photos give them a clear idea of what it is they can expect. Be sure to include exterior shots of all panels of the vehicle. As well as several interior photos from each door, the cargo area, and one of the dash. As well as the condition of the tires.
The last thing you want is to end up in a dangerous situation. For this reason, be sure to meet buyers in a secure location. For added security, bring a friend, or let someone know you plan to show your vehicle.
A lot of people make a living buying and selling vehicles on Craigslist. Because of this, be wary of lowball offers. If your car is particularly clean and you're listing it close to its NADA and KBB values, don't accept anything unreasonable.
Examples of Great Listings
What makes it great?
Lots of photos
Descriptive
What makes it great?
Lots of photos
Descriptive
What makes it great?
Several good photos
Very descriptive/honest
Examples of Bad Listings
What makes it bad?
No photos
Limited description
What makes it bad?
Limited photos taken from a distance
Limited description
What makes it bad?
Only a single photo with a poor view
In Conclusion
If you've made it this far, you should have all the knowledge you need to sell a vehicle on Craigslist successfully. To recap, you should ensure you have all the required documents to complete the sale. You should price it competitively using NADA and KBB. And you should make it presentable by cleaning it inside and out and taking it to a mechanic. As well as repairing any minor damage that's particularly noticeable. With these steps completed, you're ready to create your account and list your car for sale.
Thanks for reading – and good luck!