We offer cash for junk cars! Why are you spending time kicking that junk car when you could be spending time spending the cash you get from it? Cash Cars Buyer is Bethlehem's premier car buying company, offering top dollar on all makes and models.
So, for your junk car, scrap car and damaged car problems, Cash Cars Buyer is your solution! We also offer FREE junk car removal as well as an easy method of getting rid of the clunkers that cloud your peace and property!
Just enter your car's information here and watch as we go to work fast, to get you cash even faster!
We Are Experienced Junk Car Buyers in Your Area- Bethlehem, PA
Whether you live in zip code 18015, 18016, 18017, 18018 or 18025, we will come to you and pay you top dollar for that rusted heap of junk you have to look at!
Our network of agents is nationwide. We can get to your Bethlehem, PA residence or location with ease! Additionally, our professionals are experienced, friendly, understanding and knowledgeable about the car buying experience. So, there is no need to have all of the answers to the questions you have. We have them and we are ready to help you reclaim your front yard! Just enter your car's information here and let's replace that clunker with some cool cash, NOW!
I Want $500 for my car Now!
Wanting $500 for your junk car is not unreasonable, but there are lots of things to consider when calculating the price of your car.
Not only do we look at a car's year, make and model, but we also look at other items as well.  Did you know that the location and the trim of a junk car can play a role in the final price you get for that car?
Thankfully we have a ground-breaking online junk car assessor that calculates all of the elements of your car, to get you a precise price! Think of this: the more details you input into the calculator, the better and more accurate the offer!
Many times, junkyards and other places will treat you as if your car is worth nothing. You will not even be given the "time of day" with some scrap yards. With Cash Cars Buyer, we don't care what shape your car is in, once you know what it's worth, you can assess your options. So, enter your car's info here and let's talk about getting you cash for that heap of metal NOW!
Selling Your Junk Car FAST!
Once you decide to sell your junk car herein Pennsylvania, there are some things you have to take care of. When you sell a car in Pennsylvania you are required to go through a PA car title transfer.
Nevertheless, the state of Pennsylvania demands that car sellers have a notary title transfer. What does this mean? A notary agent has to be present once you sign the title transfer.
But finding a notary is not a huge feat here in Bethlehem, PA. Lots of banks in the area have notary agents. When you are ready to transfer that car title, just head to the bank or another place of business that has a notary, pay the fee and then present your picture ID to him/her.
Need a duplicate car title here in PA? Click here to download the form!
I Can't Find My Car Title
If you are not able to find your car title, we still may be able to buy your car. Just have any and all-important documentation you think we may need for the sale of your car. Additionally, we ask that you have a picture ID such as a driver's license. Then, if you can locate the car registration, that would be great.
We just need proof of ownership and whatever you can show us to prove ownership, will make selling your car quick, easy and convenient! Call us with questions!
What if My Car is a Total Loss?
Even if your car is a total loss, there is still hope of you getting cash for another one.
According to many car insurance policies, the car insurer is required to prepare an estimate of damages and present that to the car or vehicle owner. The car insurer must then pay the vehicle owner this complete amount.
Once that step is complete, you have options. You can choose to get your car fixed, or you can choose to deem the vehicle a total loss. The decision you make is yours and yours alone.
Once your car insurance company determines how much they owe, Cash Cars Buyer will then pay you the outstanding or the reaming amount of your total loss, before your car is to be fixed.
Now, you as the vehicle owner are looking at two payments. The first payment will come from the insurance company. And the second payment comes from Cash Cars Buyer. With both amounts of money, you can now buy another car.
When looking down the barrel of a possible total loss, sometimes it pays to get your car fixed. Sometimes it doesn't.
Once you have completed the steps you need to take with your insurance company and you want to sell your car to us, just enter your car's information here. Don't forget to include the body damage in our online junk car assessor. Then, connect with us so we can firm up that offer.  We are here to help and give you the best possible offer on your junk car!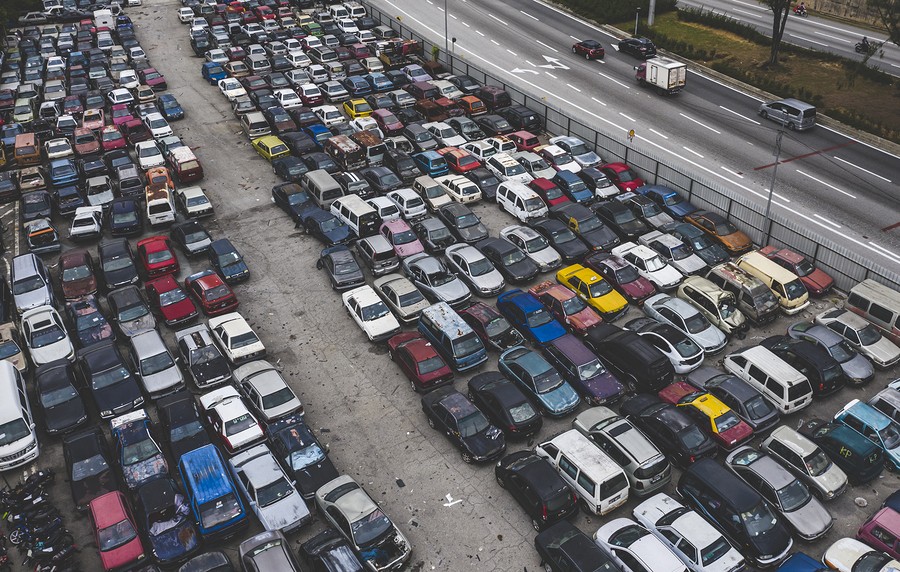 Going to Junkyards to Sell A Junk Car
If you have been thinking of taking your junk car to a junkyard for some quick cash, then, allow us to offer you something to think about.
Junkyards are great places go get money for a junk car, but there are some out there that make selling a junk car very expensive and difficult to junk car sellers.
Lots of junkyard owners are not honest or straightforward with junk car sellers.
Let's say you call a junkyard with the intention of selling your car and getting cash in a day or two. After you describe your junk car, the junkyard owner then gives you a price on the car. So, you like what he/she says and you arrange to have your junk car towed there.
But once you get there, the junkyard owner has changed his/her mind. Instead of giving you what was promised on the phone, you are now going to get a lot less for your junk car. So, now, you are angry and call the junkyard owner a fraud. Additionally, you have to arrange to have your car towed back home or to another lot. This "bait and switch" tactic is unfair and as old as time.
But then, you remember Cash Cars Buyer. So, you enter your car's information using our handy online junk car calculator. You get an offer you love and you call us to firm up the offer and make plans to meet us for an in-person inspection of the car.
We are in the business of making the sale of your car an easy one and giving you top dollar for that junk car. Forget the hassles of having to tow your car everywhere here in Bethlehem, PA. In the privacy of your home or office, you can type in your car's information and have an offer on that junk car in minutes. Then you can decide what you wish to do. How cool is that!?
We Buy Junk Cars- Quick Cash in Your Hands!
Did you know that your junk car could help your local community and the environment? There are lots of uses for a junk car and once you sell it to us, we will go to work on getting you top dollar, while helping our Mother Earth! Check out some of the ways a junk car can be recycled!
Engines and Transmissions– the old engines and transmissions on a junk car, can be rebuilt and placed in great cars!
Old Junk Car Tires– the tires from your junk car can be repurposed into asphalt for local roads and highways. They can also be used to create tarps too!
Junk Car Glass– The old glass from your junk car can be recycled into new glass bottles, fiberglass insulation and more!
Junk Car Plastics– The plastic from your junk car can be reused to create tools and other items that help others in the community!
So, type your car's information here and call us! Your junk car can help save our world!
Reasons to Sell Your Car to Cash Cars Buyer
We figured that now is a good time to share some great reasons you should junk car with Cash Cars Buyer!
We offer cash on the spot!
We've been buying wrecked cars for over ten (10) years now!
There are never any fees you have to pay us! NEVER ANY FEES!
Forget paying to have your car towed; we offer FREE junk car removal!
As a licensed, bonded and insured company, you can trust us to get you top dollar!
Our nationwide network of agents is a friendly, and knowledgeable group ready to get you TOP DOLLAR for your junk car!