Picture this: You've finished your morning coffee and are about to head to work. The sun is shining, and although it feels nice, it makes it hard to see. Then, out of nowhere as you're backing out of your driveway.  A car slams into the side of yours. Fast forward a week – after speaking with your insurance company. Due to the extent of the damage, they decide to total it out. Now what? Will you have to figure out how to sell a totaled car? For many, the easiest method is to accept a payout from insurance and have them take it away. But what if you'd like to keep it?
People keep totaled cars for many reasons. Perhaps it's financial, and they don't have the cash to replace it. Or maybe the damage is purely cosmetic and doesn't impact whether it's safe to drive or not.
Let's first examine what to do after you've been in a wreck. Then, let's look at what having a totaled car with a salvaged title means to you. Lastly, we'll go over how much a totaled car is worth and where to sell one.
Tips if You've Been in an Accident
Once the dust settles, the first thing you want to do is to stay put. Leaving the scene of a wreck, no matter how small, is a hit-and-run. Don't panic – accidents happen every day. And if things get done correctly, the whole process should go smoothly.
Your safety is first and foremost. For this reason, you want to make the scene as visible as possible to prevent further incidents. You can do this by first turning on your hazard lights. Then, if you have them handy, laying down road flares when it's safe is another way to alert others of the situation.
Even if all parties are without visible injury, it's always a good idea to call the police. For one, your insurance may ask for a police report to file a claim. The other reason is to record statements from all involved. Finally, the presence of law enforcement not only makes the scene more visible. But it ensures that everyone is on their best behavior as well. Stressful situations can bring out the worst in even the most level-headed of people.
You should always snap a few photos of any damage caused (so long as it doesn't put you in any danger). The same goes for injuries to yourself. Why? Although we hope it doesn't get to that point. If legal proceedings are required, it's vital to have as much information as possible.
While you should always call the police after a wreck, they may not always be nearby. For this reason, you should always make sure to exchange contact and insurance info with all parties involved. If there happen to be any witnesses, you should also jot down their data.
The last thing you want is to get stuck with a hefty bill after a wreck. That's where your insurance comes into play.  Which is why you want to contact them as soon as possible. Full coverage insurance not only covers damage to the vehicles involved. But it also includes medical and legal fees.
Consider Visiting a Doctor
Injuries resulting from accidents aren't always apparent right away. The last thing you want is a lifelong medical issue that you're forced to pay out of pocket. If at any point you lost consciousness or felt dazed – these are good signs a quick trip to the doctor might be a smart idea.
Now that you have an idea of how to handle things after an accident.  Let's review how a car reaches "totaled" status.
When is a Car Considered Totaled?
A vehicle gets totaled when the cost to repair any damage exceeds a specific portion of its value. Modern cars have a lot of costly parts. And even if the visible damage doesn't seem too bad, your insurance may choose to total it out. How does this work? Let's say your car has a market value of $10,000. For many insurance firms, the bar sits at about 65-70%, meaning that if the damage is more than $6,500-$7,000, it's likely totaled.
A car can end up a "total loss" for many reasons, including flood/hail damage, and vandalism.  If this happens to you, it means your car now has a salvaged title.  Let's look at what a salvaged title is, and how it affects you as an owner.
What is a Salvaged Title?
When a car gets marked as salvaged, it's issued a salvaged title – this is how the government informs buyers of its history. Laws differ between states on what defines a salvaged car – you can read up on them here. It is crucial to note, that until you fix it, it is legally unfit to drive. Once repaired, you can apply to have the title cleared, although buyers are still able to view its history as being salvaged.
How does a Salvaged Title Affect Me?
Selling a totaled car is often a pain.  First, finding an insurance company to cover it is tough since many are not willing to take the added risk. Because of this, buyers are cautious about spending money on a vehicle that is hard to insure. The second way that selling a totaled car affects you is that banks do not lend money for them. Why does this matter? Because it means that anyone interested has to pay cash, which cuts out a chunk of the market.
Now that you have a better idea of what a salvaged title is, and how it affects selling a totaled car. Let's look at determining the value of one.
How Much is a Totaled Car Worth?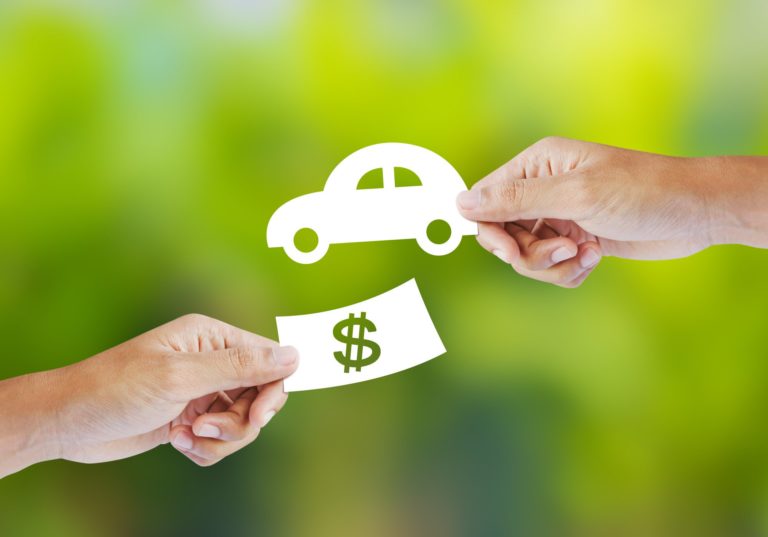 Depending on the condition of your totaled car, it may be worth more when sold piece by piece. For this reason, you'll want to weigh the car using a certified scale (found at a reputable scrap yard). The value of scrap metal rises and falls, which means that timing may be a factor. You can view the current price of scrap metal here. Bigger vehicles are heavier – because of this, you can expect a higher payout if yours is a truck or SUV compared to a small sedan.
NADA Guides and Kelly Blue Book are the two most prominent pricing tools available, and the best part? They're free. Enter a few specifics about your vehicle. Such as the year, make, model, and trim package, and its retail and trade numbers will display. Depending on the condition of your car. It's crucial to note that a salvaged model sits at roughly 25%-40% of what's shown. Another thing to remember is that although these sites get used nationwide, they are only guides.
How do insurance companies define the amount they payout? There's no set rule, but most will take the ACV (Actual Cash Value) of the vehicle (using their in-house software).  Minus any deductibles, tow expenses, and rental car fees.
Bonus Tip – Do Not Forget the Tow Bill
When you go to sell a totaled car, do not forget to factor in hiring a tow truck. Remember, if salvaged, until you repair it and re-register it with the DMV, you are not legally allowed to drive it. The national average for a short-distance tow is around $100, which can quickly grow to $300 or more if you live further away.
To sell a totaled car, you have to understand that once it's declared a total loss, its value takes a massive hit. Let's now examine what types of places buy totaled cars with salvaged titles.
Where Can I Sell a Totaled Car?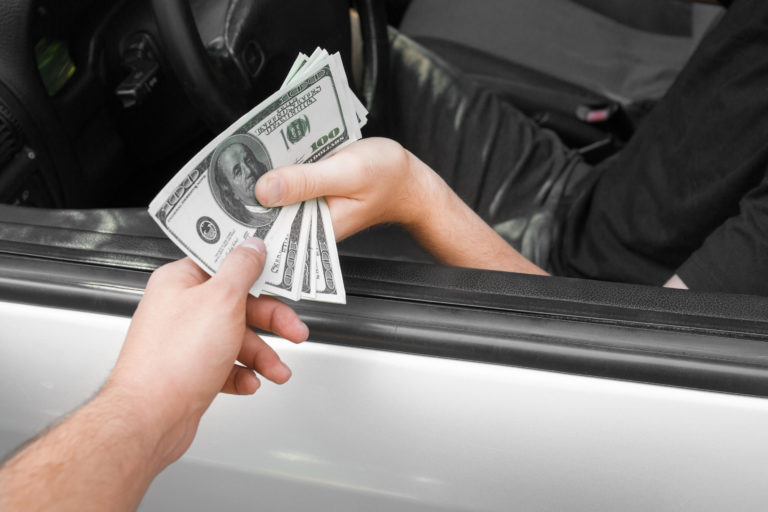 When selling a totaled car to a dealer, remember that since most dealers can't secure financing, they likely won't pay much.  The best way to determine whether a dealer might buy it, is to call ahead of time and give them the specifics.  Some dealers specialize in selling "as is" vehicles, these will be your best shot.  Remember that if your car has a market value of $10,000, dealers have to factor in any repairs, as well as the time it takes to fix.  So, if the repairs equal $5,000, and you get 40% of the value because it's salvaged, there's not much left at the end of the day.
Selling or trading doesn't make much difference. The only benefit of trading in a totaled car is that the dealer also sells a unit. Which may or may not give you a little extra leverage.
If your car is badly totaled and has a salvaged title, a scrapyard is likely one of the best places to sell it. Why? Because they specialize in buying junk cars, regardless of their condition. Make sure to only work with a licensed scrapyard, though, to ensure things get handled correctly. A licensed scrapyard is also required to have a certified scale. Which helps make sure you don't end up getting scammed. Remember that scrapyards rarely offer free removal, so you'll need to factor in the cost of hiring a tow truck.
Private buyers are hit and miss, mostly due to the added risk involved with buying a totaled car. The other side of the equation is that many private buys know precisely the risks involved. Perhaps they have no intention of driving the vehicle, and instead, want it for parts. Or maybe they plan to repair it themselves. Either way, when selling a totaled car to a private party, the best way to not waste your time, is being honest about the condition. Sites like Craigslist or Facebook Marketplace are a great place to market a totaled car.  With many shoppers being seasoned junk car buyers.
Another option that you may not have yet considered, is donating a totaled car.  While charities won't pay you cash for your junker, they do often offer free removal.  The other benefit, is that you get to write off your donation (usually valued at $500).  To ensure things go down without a hitch, you'll first want to make sure they're registered as a 501(c)(3) charity (non-profit organization).  If they aren't, then they're not a valid charity and you risk being able to claim it on your taxes.
Or, You Could Choose the Easy Way to Sell a Totaled Car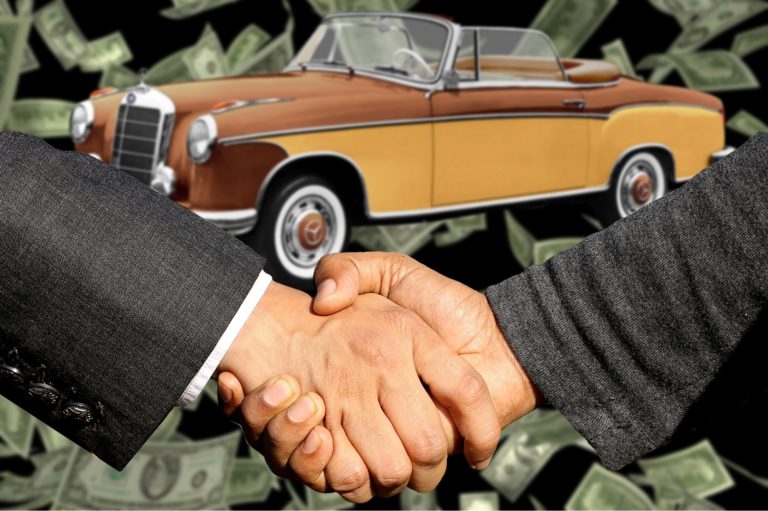 Let us introduce ourselves – we're Cash Cars Buyers. As our name suggests, we pay cash for cars near you, regardless of their shape. Why stress about a vehicle with a salvaged title when it doesn't matter to us? Why cut your profit margins looking for an affordable tow truck when we provide free removal? Instead of haggling with dealers, dodging shady scrapyards, or marketing your car to private buyers. Consider using our free online appraisal tool to skip the hassle.
Here's how it works:
Step 1. Head to our site here and choose "Get Instant Offer."
Step 2. Enter some basic info to help us identify your vehicle.
Step 3. In less than 1-minute, you'll receive an estimate on its value.
Step 4. Once you accept the offer, our experts will schedule a quick at-home inspection.
Step 5. If everything matches up, we'll pay you cash on the spot and tow it away for FREE.
That's correct – it is as simple as it seems. Our professional staff of seasoned junk car buyers is standing by 7-days a week, 24-hours a day, ready to make competitive offers on your totaled car without the usual runaround. We aim to put cold hard cash in your pocket in as little as 24-hours.  Have a few questions? No problem, contact us today at (844)-663-7286 to get started.