If "Sell my car Las Vegas" tops your tasks, then let Cash Cars Buyer help!
From FREE car removal to more, we buy all makes and models in Las Vegas!
Let it be known that we buy all makes and models for fast cash you can put in your pocket!
We offer fast and personalized service as well as a a no-hassle car selling method!
So, whether you haven an extra car you don't drive anymore,  or a rusted van that's an eyesore,  get that instant offer on it then let us sell it for quick cash!
Sell My Car Las Vegas – "How can I sell my car fast?"
There comes a time in which we have circumstances that require a quick sale of car. If you find yourself in this position, you have options. How can you sell a car fast? Let's take a look at some of the places where you can sell a car relatively quickly.
A dealership
You may find a local dealership that may be able to offer you fast cash for your car. Keep in mind that a dealership has the prime objective of making a profit. So, when you sell your car, just know that they are looking to make money from that sale in some way. You may find it to your benefit to visit the Kelley Blue Book site to get an approximate value on your car, helping you to see what you are working with.
A Friend
Got a friend who has been asking you about that great looking sedan or SUV you have? Well, if you find that you are in a bind, then you may want to hit that buddy of yours up and tell him or her that their "dream car" is ready for sale. Be mindful that mixing business with a friendship could spell disaster down the line. So, keep that in mind.
A Junk Yard
Junkyards don't discriminate on what they buy so you may find that you can make some quick cash from selling your old car to a junk yard. Sure, you can walk out with some cash, but you want to make sure that you negotiate with them, for the highest amount of money possible.
Online
Selling a car online is another way to get quick cash for your car. As the seller, you may find that you are able to sell your junk car or great sedan in a matter of days. You also have to take pictures of your vehicle, write a description of your car and then post an honest and creative ad. There is surely some work involved in selling your car, but you may see money from your vehicle sale quickly.
 Cash Cars Buyer! We buy junk cars!
If you find yourself in a bind and need quick cash you can sell your car to us! Whether you have a great running van or a car that doesn't run at all, we buy junk cars! Additionally, we buy other cars too! All you have to do, is get an instant offer on your car in and you'll know what you're working with in a matter of seconds!
Sell My Car Las Vegas – How do I sell my car in Nevada?
In order to sell your car in Nevada, the Nevada Department of Motor Vehicles (DMV) allows persons to take the ownership of the vehicle and transfer it to someone else. You also have to supply an odometer reading in Nevada as well as follow other guidelines. Click here to read more!
In addition to the paperwork that you must have ready, you must also have an inspection for cars that salvage titles. 
But you have an alternative…
Once you sell your car to Cash Cars Buyer, we take are of all paperwork for you! Additionally, you never have to pay us to do it!
We also handle all fees, and processing. Ready to sell your car? Click here and get your instant offer on your car fast!
Sell My Car Las Vegas – "What about selling with no title? I cannot find mine!"
In many instances, not having a title is not an issue. In fact, we buy cars with no title. So, if your title is damaged, destroyed or lost, you can still get an instant offer. Be sure to indicate that you don't have the title. And when you complete your instant offer, you can see what you are working with.
Then if you wish to proceed with the sale of your car, you can call us to obtain a guaranteed cash offer!
Thinking of selling your car on your own?
Have you been thinking of selling your car by yourself? This may prove to be a viable option, but let's examine a few pitfalls sellers make while selling a car.
Not knowing the value of the vehicle
As a car seller, you have to take the time to know what your vehicle is worth. You can do this by visiting Kelley Blue Book or the Edmunds websites. Once you know this information, you can price your car competitively, and for profit.
Taking the first offer from a buyer
Unless you are in an emergency situation, you should NEVER take the first offer a buyer makes. Especially if you have a great used car. Practice those negotiation skills and know that your car is a prize!
Spending big money on repairs
As a car seller, you don't have to spend lots of money to get your car fixed. Lots of buyers will buy your car with the blown engine or another defect. The job of lots of car buyers, is to fix and restore vehicles.
Not being honest about your car's condition
If you think that "little white lies" will not hurt your car sale, think again. You have to be up front and honest about the condition of your car. If it takes a bit longer for your car to start, or it has a bad AC unit, you want to disclose all of this to the buyer. Again, this does not mean you won't make the sale.
Not getting that Nevada paperwork in order
Selling a car here in Nevada requires some documents. And if you don't have them, then, you don't have any business selling a car. And it's better to hear it from us, rather than from some agent at the Nevada DMV.
Sell Your Nevada Car – "I Have Some Questions"!
What is a Nevada salvage title?
A car will get a Nevada salvage title if the car has the declaration of being a total loss. A car is also eligible for a salvage title if the car has had some flood damage, or is considered non-repairable.
Do you buy cars with salvage titles? What about no titles?
You can sell us your car with the salvage title and if you have no title, we still may buy your car! Just have your ID as well as car registration once you decide to sell. Begin with an instant offer and call us to take care of the rest! 844-663-7286!
Where can I sell my car online?
In today's day and age, you can sell a car on multiple online platforms. From Craigslist, to Facebook, you have options. But you also run the risk of paying hundreds of dollars to sell your car and you have to put in lots of work to make your car ad stand out. With Cash Cars Buyer, we buy all makes and models. As a licensed, bonded and insured company we offer quick, fast and stellar service.
You will come to my Las Vegas home and appraise my car?
We sure will! We don't care if your zip code is 89164, 89131, 891127 or anywhere near! Once we make an appointment to come and inspect your car, we will keep it! So, head out for some great take out at Carson Kitchen. Because we have your car sale taken care of and you can win the bet on that one!
My car isn't a junk car. But I still want a great value for it. How can I make this happen?
Cash Cars Buyer is backed by over a decade of car buying experience, Additionally, we stay up-to-date on policies, procedures and the price of scrap metal.  We also stay current on vehicle pricing by incorporating damage levels, mileage, Las Vegas location of vehicles and current market trends. With all of this in place, this allows us to give you the most stellar offer and best available quote for you! And to put you at further ease, you are never bound to accept our offer.
Sell My Car Las Vegas – "What is my car worth?"
While this is not a complex question for us to answer, lots depends on the condition of your car. Anyone with a stellar used car is looking at more money than someone with a beat-up clunker.
We believe that just about all cars have value, but that value depends on some factors. Some of those factors and questions we ask include:
The year, make and model of your car
The trim as well as options on the car
Where the car is located in Las Vegas
Is there any damage on the car and if so, where?
Do you have the title on the car?
Instead of guessing about your car, just enter your car's specs and get an instant offer on your car fast! Ready to proceed with the sale of your car to us? Call us at 844-663-7286 and firm up that offer with a guaranteed cash offer!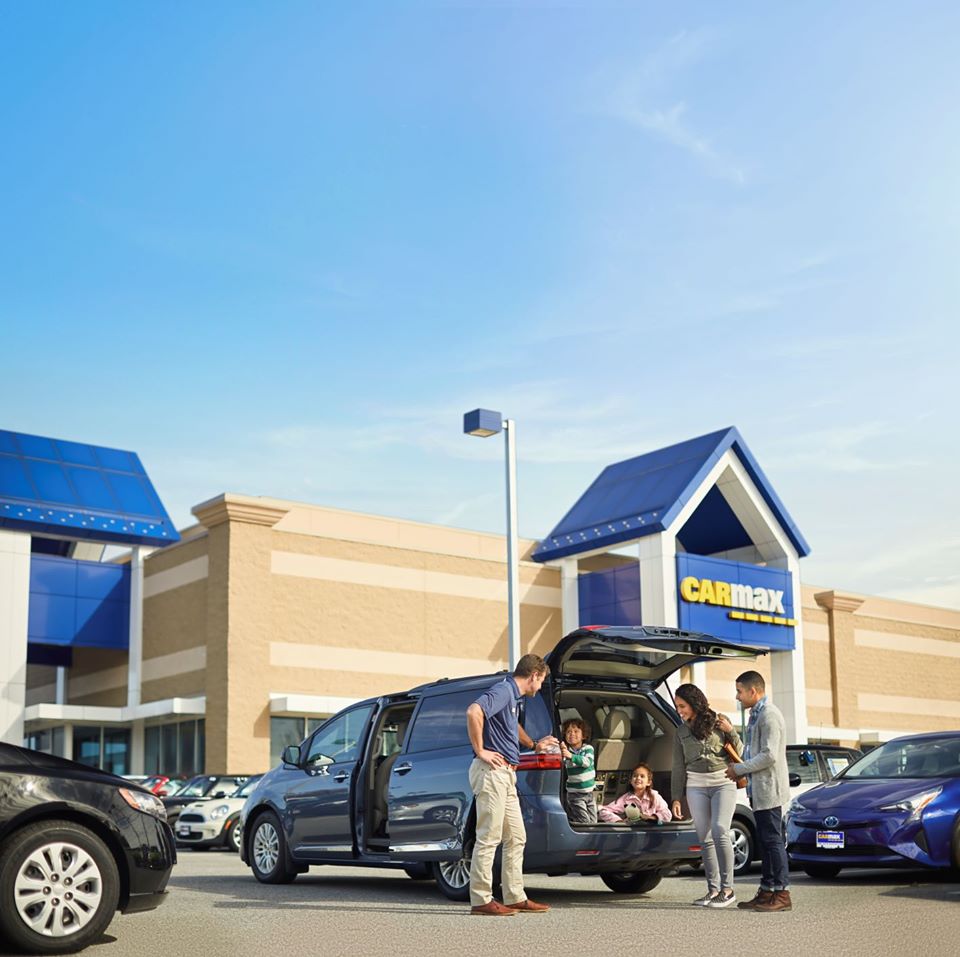 Does CarMax buy any car?
Thinking of selling your car to CarMax? Well we can't blame you. They are the largest used car retailer in the country.
So, selling your car to them makes perfect sense.
According to CarMax, they buy all kinds of cars, but they have the right to refuse to buy a car at any time.
Recent reports state that CarMax will buy damaged cars, even those cars with flood or frame damage. You can seven sell your car to CarMax if it has that "check engine light" on it. But if you have a car with issues, you can expect less money for it, than a car without issues.
Their "We Buy All the Cars" seems to ring true and the company is known to have trained and experienced appraisers that can inspect a car from the hood to the hind parts.
And if CarMax decides to buy your car, you can count on an offer that is good for seven days. Once you make that offer, you will receive a bank draft that you have to deposit into your bank, and wait to clear. This could be up to ten business days.
Sell My Car Las Vegas – Cash Cars Buyer is ready to buy your car!
We pay in cash on the spot! We issue no checks or bank drafts as payment to you!
Can't find the title? We buy junk cars with no title! Just have your ID as well as car registration ready to go for the sale of your car.
Whether your car is sitting on bricks, is a great used car, or is running or not, we'll buy it!
We offer FREE hauling away! You never have to reach in your pocket to pay for the removal of your car! It's on us!
Once you accept our offer, you will have standing and solid appointment time!
In many cases, we can come to you the same day you call or contact us!
Selling your car to us will never be gamble. You are always poised to win! We offer cash on the spot and the best possible outcome to your car selling experience!
We are local to Las Vegas and surrounding areas!
As a licensed bonded and insured company, we we are honest, straightforward and trustworthy. No scams up in here!
We have been buying junk, old, classic and totaled cars for over a decade now. And we love what we do!
Need privacy? No problem! Because, we will never ask you to bring your car to us. We come to you!
All transactions are safe and secure. You don't have to worry about scrams, swindles and games.
Las Vegas!
Sell your car to Cash Cars Buyer!
Get an instant offer on your junk, scrap, totaled or great used car now!
844-663-7286!
We are no gamble!
We buy all makes and models!