You may be wondering how to sell a car for scrap. Maybe your car was in an accident and doesn't run very well anymore. Or maybe it just got too old and is no longer worth the cost of repairs. To sell your car for scrap, fill out the online form from Car Cash Buyers to get a quote in less than a minute. This is completely free. When you accept the offer, we'll schedule an appointment for a quick in-person inspection at your home for your convenience. We'll pay you in cash and take your car away, with no hassles for you.
Is selling a car for scrap metal really that easy? Yes, it is. If you want more details about the process, keep reading.
How to Sell a Car for Scrap
If you're wondering how to sell a car for scrap, the process starts by finding somewhere to sell it. Many companies focus on offering this service, so you'll have your pick. All companies should go through the process of giving you a quote, having you agree to it, signing the paperwork, and then removing your car and giving you the money.
At Car Cash Buyers, we make the process as simple as possible for you. Start with the free estimate tool on our website. We'll ask you a few quick questions about your auto and use that information to give you a fair quote. Don't worry about the condition of the vehicle, as we'll buy your car whether it runs and regardless of the condition. Have some information handy before you get started, like your car's make, model, year, odometer, VIN, and your full contact information.
You're free to walk away at this point and either save your car for another day or sell it to someone else. If you choose to accept our offer, we'll work with you to schedule a convenient appointment at your home. One of our specialists will come over and do a quick inspection in person. This is just a formality to ensure that we offer you a fair price for your auto and everything is as it seems. We can schedule the appointments quickly because we have representatives spread throughout the country. This way, you don't have to wait longer than necessary to get your junk car off your property and exchange it for cash.
Once we confirm everything, we can give you cash right then and there. You don't have to worry about calling us back or waiting for another appointment. We have a 100 percent guarantee to offer transparency without hidden fees and to give you cash for your auto that day.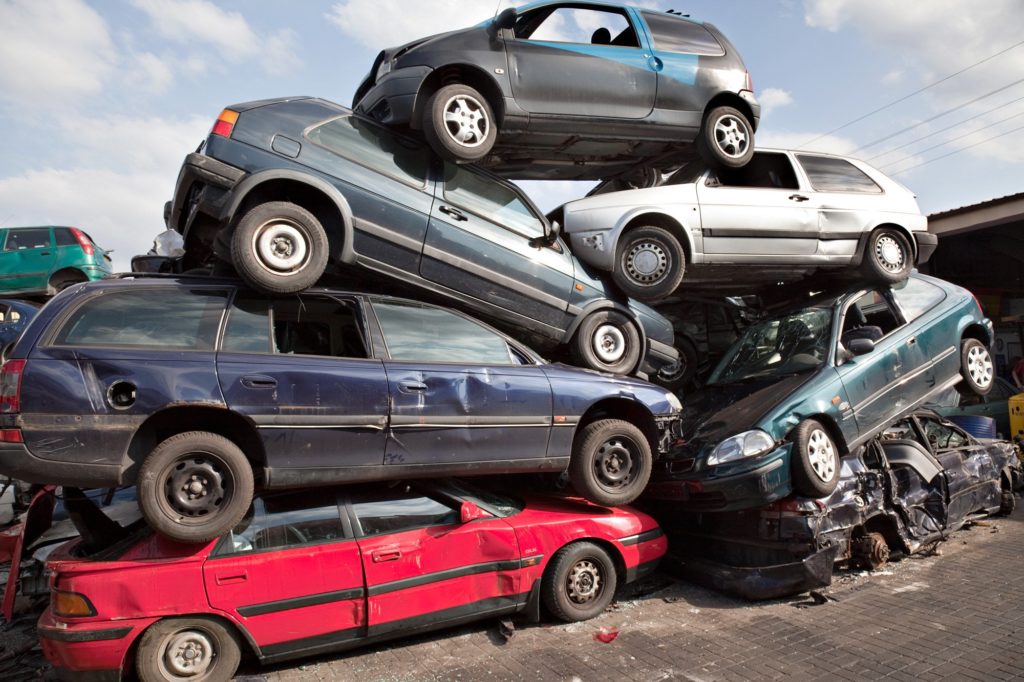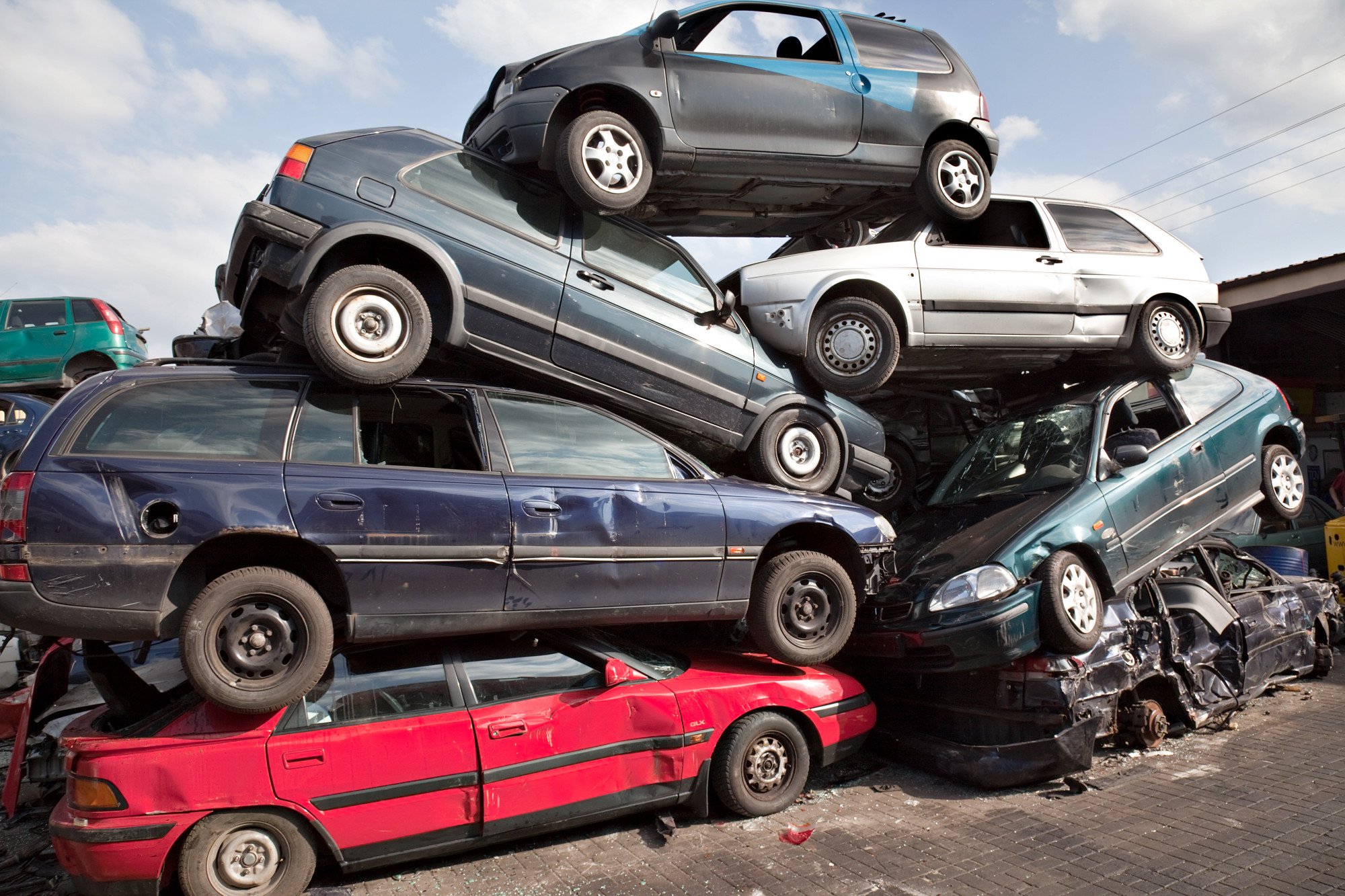 How to Sell a Car for Scrap: Preparation
Before you start to sell your car for scrap, you should take care of a few things. First, take all of your personal belongings out of it. You don't want to lose your possessions when you sell your scrap car for cash; you want to gain value. Don't forget to remove the license plates, as well. You may need to bring your license plates with you to the DMV when you cancel your car title.
Speaking of which, if you want to sell your car for scrap metal, it's wise to have the relevant paperwork on hand. Specifically, you need the paperwork that shows you own the auto. You can sell a car for scrap without the title, but you will frequently get a slightly lower offer. It may also be a bit more complicated at times.
You should also decide if you want to sell the entire car for scrap as is or sell some components separately. The latter can net you extra cash, but it requires extra effort. Only certain components are worth selling separately, such as the entertainment system, starter motor, alternator, wheels, and batteries. This really only makes sense if you plan to bring the car straight to a junkyard to sell it for scrap metal.
On the other hand, a scrap car buying company, like Car Cash Buyers, will factor the cost of these more valuable parts into your quote. We pride ourselves on honesty, including factoring in the reusable parts of your auto when answering how much you can sell your car for scrap.
Where Can I Sell My Car for Scrap?     
It used to be that you had to hire a tow truck and bring your car to a junkyard or specialty lot to sell it for scrap. Now, you can sell it for scrap from the comfort of your own home. That's right, you don't even have to leave your house to sell it for scrap anymore. If you're still wondering, "Where can I sell my car for scrap metal?" do a quick online search.
Many companies will tell you where to sell a car for scrap, but they're not created equally. Some companies include hidden fees, such as documentation fees or pickup fees if you can't bring your car to their location. Others will make you wait for days or even weeks to receive payments. Other companies even might quote you one price then offer a vastly different figure in person.
Instead of just using the first company that comes up when searching for "where to sell my car for scrap" online, do your research and ensure that it offers fair prices, convenience, and honesty.
You should also ensure that you choose a buyer that is insured, licensed, and bonded. This gives you the security of operating with a legal company that won't try to take advantage of you. After all, it has a reputation and licensing to maintain, so it won't pull tricks.
None of that is a concern with Car Cash Buyers. We pride ourselves on offering the best price for used cars, and no one can beat our offers. In fact, we guarantee it! Best of all, we pick up your car for free, without any hidden fees. In other words, the price we offer is what you get. Best of all, we offer your money in cash right away. There's no waiting for a check or wire to clear. Instead, you get your money instantly. You don't even have to worry about the documentation since we handle it for you.
How Much Can You Sell a Car for Scrap?
Most people want to know the answer to, "How much can you sell a car for scrap for," but there's no easy answer. Every car is different, as is the amount that you'll get for it. Simply put, there's no single answer to, "How much does a scrap car sell for?"
The best way to get an answer to the question, "How much can I sell my car for scrap for?" is to use our online estimate tool. With just some simple information from you, we'll give you a fair quote. We'll base our quote on your car's age, odometer reading, vehicle history, make and model, demand, and other factors in your area. At Car Cash Buyers, we can get you an accurate quote in seconds, so you don't have to wonder how much you'll get when you sell an old car for scrap.
In addition to all of those factors, the value of your car when you sell it for scrap will depend on whether it runs. This can determine whether it gets repaired or is sold for metal. It will also influence how many parts are usable. If there's a chance that your car could be repaired, then you'll likely get more for it. In the case of cars that can't run at all, factors like the weight and size of your car will play a big role, as well. Heavier, larger cars will net you more money since they have more metal.
To some extent, it will also matter where you live, specifically how far you are from where we plan to bring the car. Some scrap car buyers will charge for transportation, but Car Cash Buyers doesn't. However, you might see some influences on the offer price based on where you live. The good news is that we have a vast network, so you're never too far from one of our centers, something that helps us maximize how much you sell your car for.
Have Any Other Questions About How to Sell a Car for Scrap Metal?
If you still aren't sure how to sell your car for scrap, then feel free to contact us at Car Cash Buyers. We aim to make the process as easy as possible, without any need to search online with terms like "sell my car for scrap near me." Our team is always near you and ready to buy whatever auto you want to sell.
To get started, visit our website and fill out our estimate form or give us a call. Within minutes, you'll know how much to expect to get when you sell your car for scrap. From there, we'll move the process along smoothly, so you can get your cash within days or even 24 hours in some cases.
You don't have to worry about how to sell your car for scrap. Just contact Car Cash Buyers and let us handle everything for you, from the towing to the paperwork. Our hassle-free approach makes it easy to get rid of the junk car taking up space on your driveway and gives you cash in return.