LKQ SELooking for a solution to your "LKQ sell my car dilemma"? Have a need for a specific car part? Then LKQ may be able to help! LKQ has over 80 salvage areas around the country and uses the highest principles to buy vehicle and sell vehicle parts! LKQ Pick Your Part has the ability to recycle parts for over 600,000 used vehicles per year. Think of this trusted company as your source for quality, affordable and sturdy car parts as well as the sale of our vehicle!
What is LKQ?
LKQ (Like Kind and Quality) Corporation is a trusted alternative and specialty parts company that helps to repair and automobiles as well as other vehicles. With operations in Europe, North America and Taiwan, customers can count on unparalleled service!
Clients can get a wide array of components, equipment and replacement systems, to fix, repair and  accessorize trucks, sedans, classic cars, specialty automobiles, recreational vehicles and performance vehicles.
Are LKQ engines good?
LKQ sells quality used engines. Customers can also request a warranty on their used engines too. The company also requires that a mechanic inspect the engine at 600 miles, accompanied with an oil change.
Will LKQ buy my vehicle?
LKQ always has sights set on purchasing junk vehicles. So, whether you have a junk car or a truck, you can sell it! The value of your car will depend on its year, make model and condition.
How much does a junkyard pay for a car?
The vast majority of the weight in your car is comprised of steel. An agent can easily determine the value of scrap steel at local recycling yards. Prices of around $150 per ton are quite common. Therefore, your our average car is usually worth around $300 to a scrapyard or a junk yard. As a junk car seller, it's good to know the current price of scrap, so that you have an understanding of your car's worth. You can click here to view the current price of scrap metal.
Factors that Determine How Much Junkyards Pay for Vehicles
Year/Make/Model
This trio is the most general, most accurate and most basic factor (or set of factors) when it comes to finding the value of your car. The year, make and model of your vehicle will determine the current market value of the car as well as its parts. You may find that the Kelley Blue Book value of the used car can be helpful. But you have to keep in mind that junk cars have a different value, especially if they have lots of issues within them.
Weight
The most important factor in determining the amount junk or salvage yards pay for junk cars is the vehicle's weight. The weight provides an estimate of the amount of scrap material that can be recycled from your vehicle. On average, a car has about 2,400 pounds of steel. That same car also has an average of 300 pounds of aluminum. If your car is heavier or lighter, the price, of course will change.
Condition of the Vehicle
Your junk car's condition is another factor that a junk car buyer will look at. Once the car comes in, the junk car owner will see if he or she is able to restore the vehicle. They will also decide if he or she can re-sell the vehicle. They may also decide if the car needs to be turned into scrap metal and then sold.
LKQ- Sell Car – How much will LKQ pay for a car?
Looking to sell your vehicle? LKQ Pick Your Part purchases over 150,000 vehicles a year. They recycle the gas as well as oil inside of the cars. And they also offer the parts to customers at a tremendous savings!
One of their qualified agents will give you a quote over the phone. Or you can get an instant quote using their online tool!
Body damage or not, LKQ wants your car!
How it Works
First, you need to remember that I's a self-serve company.
You bring your own tools and you shop their rows of junk cars to find what you're looking for.
LKQ states that the average consumer can save up to 90% on auto repairs when you do the work yourself?
There are over 70 locations around the country. Their locations can be found between Florida and California and several states in between!
All you have to do is to visit their website and then enter your zip code under the "store locater" box. There you will see the store nearest you, based upon what you entered.
And if you know the part you're looking for…
You can view the inventory they have, on their website.
Not only can you search vehicle inventory, but also the part prices. Then, you can see what they have.
Although they do not keep inventory on the parts, you can see when their vehicles entered the facility.
LKQ also has a loyalty program that allows you to inside their PYP garage.
You can sign up and get alerts via email and see when a vehicle comes in with the inventory you are looking for.
Don't forget your toolbox and gloves when you come to LKQ! You sign in, pay your admission fee and then you go hunting for the parts you need!
You can also ask for an interchange.
For example, let's say you are looking for a 2006 Ford Explorer quarter panel.
You may find that panel on another Explorer made in another model year.
The friendly LKQ agents can assist you with this interchange process, before you enter the facility to go car part shopping!
LKQ has millions of parts from hundreds of vehicles.
At LKQ, parts are organized by make and model.  So, make sure you visit the website of your local LKQ location.
Lots of consumers report having a great experience at LKQ, picking the parts they need for their vehicles.
No open-toed shoes allowed and it's a first come, first serve facility.
Do junkyards sell tires? Can I get Just A tire from LKQ?
According to LKQ online agent "John0123", you can purchase one tire if needed. And the limit is four. If only one tire on your vehicle is worn out or if you need a spare, you can get a good deal at a junkyard like LKQ.
Generally, one tire will cost you between $10-50, depending on the condition of the tire. At LKQ, you will have the opportunity to inspect the inner section of the tire and ensure it is a good fit for your needs.
Do Junk Yards Sell Batteries?
If you are in need of a car battery, but money isn't flowing right now, LKQ does sell car batteries and may have the perfect one for you. So, if you are planning on keeping your car for a considerable amount of time, you can buy a used battery from LKQ. But there are some things we would like to draw your attention to, before you go battery shopping.
Knowing what to search for and pay attention to, can help you find a used battery that still has some life left in it. Check out some tips we are offering when shopping for a used car battery.
Checking the Age of the Battery
When on the hunt for a pre-owned battery, be sure that you always check the date stamp on the battery. That date stamp offers information on when the battery was manufactured. Unfortunately, lots of people do not know how to read the date stamp on a battery. The month the battery was made is in an A through L letter format. For example, the letter A is for January, while B is February, and so on and so forth.
Then, you will see two digits next to the letter. For the year 2016, the stamp may be 16 or may simply be a 6.
For a battery that was made in April of 2018, the display on the battery will read D8 or D18. Knowing how to read the date stamp will allow you to see how old the battery is.
Look for Corrosion
When buying a used battery, be sure that you are not hurriedly buying the battery. So, always examine the battery carefully. Dust on a battery in a junk yard may be normal. But you want to be on the lookout for orange or green corrosion on it. Although corrosion can be found anywhere on a battery, it's most commonly found around the terminals. So, if you see corrosion on the battery, you should bypass it, as it may not have a long life left in it.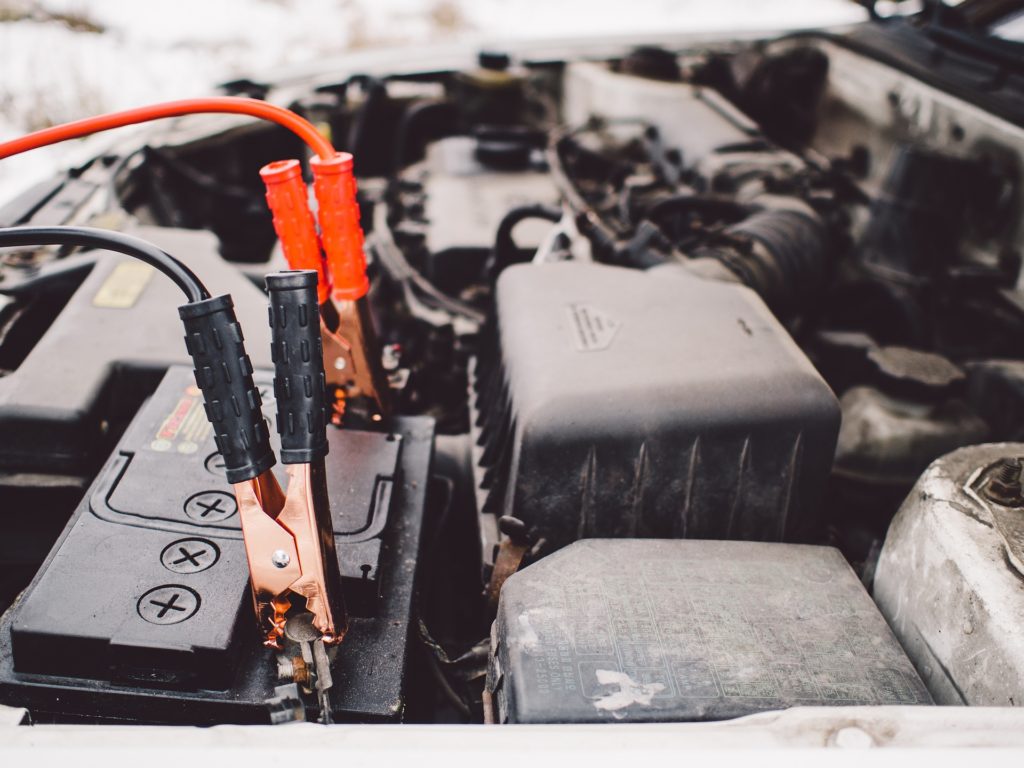 Type and Position of Terminals
The position of the positive terminal can directly affect the polarity of the car. You have a risk of shorting if the positive terminal contacts with the metal shell of the car. This means it is crucial to check what side the positive terminal is located, depending on the car you are wanting to place it in.
LKQ Sell My Car – Helpful Features and More!
LKQ wants your business and they offer an array of services to assist you!  Just check out a few of them!
Free Quotes
Need to sell your car quickly? Need a junk car hauled away? Get a free quote from LKQ fast!
Live Chat
For answers to questions you just can't seem to find, there are live chat agents that can assist you with what you need! You can ask just about anything related to selling your car or buying a specific part!  You can also talk live with an LKQ representative to sell your car and get a fast, free offer for your used vehicle!
A Bit about LKQ
"We purchase used vehicles from insurance companies, tow companies, charities, private parties, auto auctions and people just like you. Each of our 70+ salvage yards stock thousands of used cars and trucks. We're constantly adding fresh used autos daily. This gives our customers the ability to find the car parts they need at an incredibly low price," as the LKQ website states.
They also have well-organized salvage yards are well organized. And the vehicles are grouped by make and model.
"Each used car and truck is placed on stands to make it easy to get the used auto parts you need. Before being placed in one of our salvage yards, each used car and truck is inspected and has the fluids and hazardous materials drained for recycling. LKQ is committed to recycling to reduce waste in the environment and communities we serve," states LKQ.
Selling Your Car To LKQ – "How do I get rid of my car for cash?"
LKQ Pick Your Part is happy to purchase your junk, rusted and damaged vehicle seven days as week. Whether you have an old truck or sedan, you can sell it.
"We buy all vehicles running or not. Get a free quote today by calling (800)962-2277, or you can live chat or email us by filling out the form on this page. Your vehicle doesn't run? No problem, we will arrange towing services for your vehicle," adds LKQ!
When you choose LKQ Pick Your Part, you are giving your business to a company that is licensed, bonded and insured.
Additionally, you can confidently visit their location or sell your car with a company with over two decades in the junk car buying and part pulling business.
"We pride ourselves in providing you honest, fair appraisals for your vehicle and we buy cars and trucks 7 days a week. We are the largest buyer of salvage vehicles in the United States, "adds LKQ.
Additional company features that make selling your car and picking your perfect part easy:
Licensed, bonded and insured as well as reputable
Top money paid for all vehicles
State approved disposal
Reliable, friendly and fast service
Car hauling services available
LKQ Sell My Car – Warranties
If you buy a used auto part from one of their yards you have "…. approximately 30 days to return or exchange the part."
"You can also purchase and extended warranty to give you a total of 90 days! (The purchase of a 30- or 90-day warranty may be required at some locations, check your local store's prices page for details.)," adds LKQ.
Learn more about LKQ by visiting their website today!