In the year 2019, the Coronavirus forged its way into the world. The disease continued to move swiftly in early 2020, causing United States President Donald Trump to declare a National Emergency.
The World Health Organization also declared a pandemic in March of 2020.
The disease continues to affect persons globally.
Scientists and physicians believe that the Novel Coronavirus or the 2019-nCoV can be traced to Wuhan, China.  The virus continued to spread rapidly, with confirmed cases in multiple countries.
In this post, we will provide an understanding about the Coronavirus.
We will also provide information about car buying, car selling and the impact that the virus has on car sale and buying. We encourage all to stay safe, healthy, informed as well as educated.
Facts About the Coronavirus
The following facts are provided by the Centers for Disease Control or the CDC. Click here to obtain additional information about Coronavirus.
The Coronavirus does not discriminate. This means that anyone of any race, ethnicity or background can be infected with the Coronavirus.
For many individuals, the risk of becoming sick with the Coronavirus is relatively low.
Older adults, people with underlying health issues (asthma, respiratory failure, HIV, AIDS and compromised immune systems) can be affected with the disease.
There are things you can do to remain healthy. These include: (a) washing hands often and with soap as well as water. It is advised that you take 20 seconds to wash your hands, to effectively remove bacteria. (b) avoid touching your face (c) covering your cough and sneeze with the corner of your elbow, in your arm. (d) staying isolated when you are sick.
Click here to learn more from the Centers for Disease Control.

Coronavirus and the World Health Organization
According to the World Health Organization (WHO) , the following statement appears on their website: "Coronaviruses (CoV) are a large family of viruses that cause illness ranging from the common cold to more severe diseases such as Middle East Respiratory Syndrome (MERS-CoV) and Severe Acute Respiratory Syndrome (SARS-CoV). A novel coronavirus (nCoV) is a new strain that has not been previously identified in humans."
Additionally, WHO outlines of the infection which include:
Breathing difficulties or a shortness of breath
Respiratory symptoms
Coughing
Fever
"In more severe cases, infection can cause pneumonia, severe acute respiratory syndrome, kidney failure and even death," as stated by the WHO.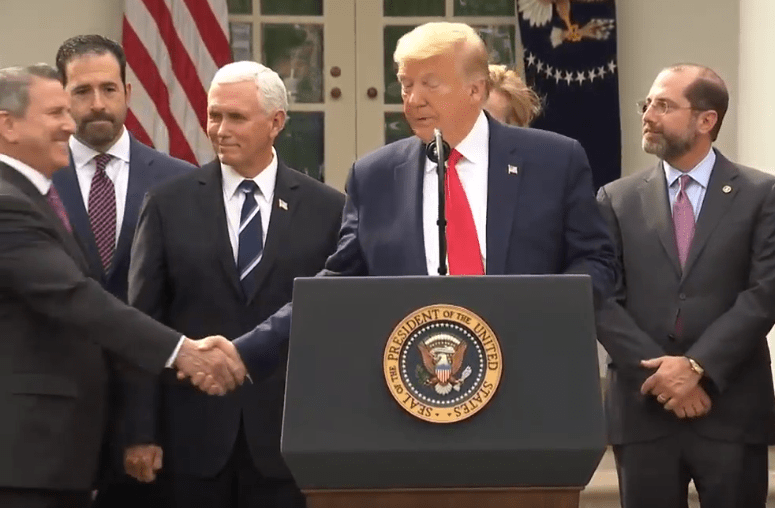 Coronavirus – President Trump Declares a National Emergency
While the Coronavirus outbreak first started in Wuhan, China, health professionals were able to identify cases in just about all of the United States. Globally, the virus has claimed the lives of thousands.
On Friday, March 13, 2020, United States President Donald Trump declared a National Emergency regarding the Coronavirus. This designation allows for $50 billion for states, territories and localities in the nation, to help to fight as well as eradicate the disease as best the areas can.
Additionally, President Trump added duties for the U.S. Secretary of Health and Human Services. Government officials must now waive existing healthcare rules in response to the virus.
President Trump also added that the private sector is to provide 5 million coronavirus tests within a month from the March 13, 2020 date.
Car Buying, Selling and More – Frequently Asked Questions
Lots of fear surrounds the Coronavirus, including car buying and selling. We provide some frequently asked questions as well as answers, related to car buying and selling.
Should the Coronavirus Outbreak Keep Me from Buying a Car?
Not at all. The fear of the Coronavirus should not keep you from buying a car. As you look for a car for your needs, and remain within your budget, you will be fine. Even in a time of no global health threat, you want to practice common sense and continue to be smart about your car purchase.
Additionally, you want to keep abreast of the latest news. You should also allow for the opportunity to listen to the updated news that medical authorities present, regarding person-to-person interactions. For example, hand washing, and other methods for the prevention of disease are crucial.
What if I am laid off?
If you are facing a layoff, you have to evaluate your circumstances. Perhaps purchasing a car during the Coronavirus outbreak may not be feasible. You may consider waiting a month or two, to purchase your car or getting locked into a car loan. Only you and your family members know what your household is financially capable of.
What is the market like for buying a car with this Coronavirus outbreak?
Data supports findings that the COVID-19 outbreak is not impacting car sales in the United States. But it is important to note that with the COVID-19 outbreak,  there is a slowdown in the auto market.
Additionally, auto analysts predict that 2020 will not be a year that will see strong overall new automotive sales. This may open up an opportunity to receive a great deal or discount on a vehicle.
You should continue to watch reports about auto sales as well as the Coronavirus. If you have your eye on a SUV or a certain car, visit your local dealership to see what incentives the dealer has on the car of your choice.
What if the Coronavirus Causes a Shortage of Cars to Buy or Lease? 
It is unlikely, that the Coronavirus will cause a shortage of cars to buy or lease. But there are chain disruptions leading to a shortage of some vehicles sold in America. Officials continue to watch the disease and make the best decisions that protect citizens of the United States.
Should I worry about the purchase of cars that are manufactured in China?
Currently, very few cars are built in China for the U.S. market. But there are reports of a high-volume model of the 2020 Buick Envision manufactured in Asia. While Buick dealers have a tremendous supply of a luxury compact SUV, they are offering lots of sales and incentives on the car.
Korean automakers of the Kia and Hyundai cars build many vehicles in Korea. A large number of their models are manufactured in America.  As time progresses, shortages of their Korean-built models will be noted and acted upon.
Is the Coronavirus able to sit on a car that is transported to the United States from Asia, and infect me if I buy that car?

Are Car Prices Dropping Due to Coronavirus?
As we continue to learn more about the Coronavirus, there is lots that we don not know.  According to health officials, the COVID-19 coronavirus will claim the lives of thousands around the globe.
In March, Detroit's big three automakers closed their auto plants for an undisclosed time period. Fiat-Chrysler, Ford, General Motors all closed their Metro- Detroit plants to address the spread of the Coronavirus.
During a March meeting, UAW leaders made a deal with representatives from each automaker to continue building cars, despite the global economic shutdown and the spread of Coronavirus continue to worsen.
But in Mid-March, some auto factory workers receiving a diagnosis of Coronavirus,  auto companies stopped production in the U.S., Canada, and Mexico facilities. They decided to cease all operations till March 30.
According to a report released by J.D. Power, the impact of the Coronavirus would spell less vehicles sold in 2020, than earlier projections predicted
The report released by J.D. Power also stated that the auto industry can fully recover.
With government-proposed stimulus packages to tax payers, the outlook has pearls of promise in it.
Therefore, car buyers can expect for dealerships to offer attractive incentives for new cars as car dealers prepare for a slowdown in car buying.
Additionally, other dealers are focusing on used car sales, to help customers purchase more affordable cars.
It's always best to contact your dealer and find out if they are open and if so, what specials they are offering on cars during the global Coronavirus outbreak.
The CDC believes that the spread of droplets from people with Coronavirus to others, is thought to be the main means of COVID-19 transmission.
This means that the virus has great transmission though a cough or a sneeze.
The CDC officials believe you can also get the virus from surfaces.
But they do state that the virus cannot travel tremendous lengths, i.e. the transportation of a car from Asia to the United States.
Can I get a great deal on a car during the Coronavirus National Emergency and outbreak?
Car dealerships offer buyers rebates on cars throughout the year. Therefore, you may want to call the dealership of your choice, to see if there are rebates, bonuses and other incentives during this Coronavirus outbreak.

Selling A Car During the Coronavirus Outbreak
With one look and listen to news reports, it is plain to see that the Coronavirus outbreak is causing sheer panic, fear and apprehension for almost everyone. But if you are wanting to sell a car during the outbreak, you may want to either wait or list your car and have a healthy atmosphere for car buyers.
Just some points to remember moving forward:
If you feel sick, stay home or cancel the sale of your car. You need your rest and the sale of your car can wait!
This Coronavirus is a several- month battle. So, as a car seller, you don't have to become a hermit, but be aware of activities that are high-risk activities.
You can always post pictures of your car online, talk to perspective buyers, and discuss your car with buyers.
If someone wants to meet with you in person about your car during this Coronavirus, be smart and use your discretion.
Please do not shake hands with a buyer. If you sell your car during the Coronavirus, AGAIN… please do not shake the hands of the buyer. Instead, nod and smile warmly to convey gratitude.
Check your local DMV or department of motor vehicles for updates. Lots of DMV and motor vehicle departments are making changes to policies in the wake of the Coronavirus outbreak. So, it's best to all ahead and get information about paperwork, car titles and such before making plans to go and fill out any document.
For any concern you have related to this Coronavirus pandemic, please use your better judgement.  If you have health insurance, call your provider.

CarMax Increases Store Closures
In Mid-March of 2020, CarMax expanded the number of stores to close to address the vast spread of the Coronavirus. Locations in Pennsylvania, California and Nevada were a part of the 19 that closed.
In early March, CarMax temporarily closed five of the stores in California, due to a county shelter-in-place order.
Additionally, the retail chain stated that a large majority of their 200-plus stores would remain open nationwide, while implementing several safety precautions to stop the spread of Coronavirus.
Some of those safety protocols include: "handshake-free" interactions with customers and enhanced and deeper cleaning of the stores.  Management continues to encourage hand-washing among employees as well as using intense sanitation measures when handling items, paperwork and more. CarMax is also instructing employees that those employees who fee ill, to stay home Employees must also report a report any diagnosis of COVID-19 should they receive one.
Millions of Americans Told to Stay Home
In Mid-March, approximately a fifth of Americans have orders to stay home. Public gatherings against the law. And US health officials continue stark warnings about the spread of the Coronavirus.
Residents who live in New York, Connecticut, Illinois and California have order to sequester, with only essential workers in the streets.
California Gov. Gavin Newsom states that police will not be regulating the statewide order. Additionally, Connecticut Gov. Ned Lamont adds that residents of his state could face fines for choosing to ignore directives.
These sweeping orders follow similar orders on the state and city levels around the country. Leaders on every level continue to urge residents to practice social distancing and staying home, unless it is a necessity to go out.
While lots of projections cite that other cities will begin to follow suit of leaders in California, Illinois and New York as well as other places, leaders agree that residents need to prepare for conditions to worsen, before improving.
With automakers seeing closures and car sales seeing a decline, the future is uncertain for all, but hope remains for many.
Coronavirus Points to Remember
While many entities are reporting closures for weeks, indefinitely and until a given date, check out some sticking points we want you to remember:
Wash your hands and please keep your hands away from your face.
If you feel sick or ill during any car buying or selling activity, please stay home. Visit the CDC website to find out the latest information about testing, or call your insurance provider for assistance.
Remember that the COVID-19 virus will not last forever. We will have a wonderful community that we can all thrive it. We will get through this Coronavirus!
Panic never gets anyone anywhere. You have the power to create an atmosphere of education, calmness, health and information. Whether you are selling or buying a car, you will ultimately achieve your desired result. A delay in the purchase or sale does not mean a denial!
Be well and happy car buying as well as selling!