Searching to sell your car or buy another one? Time to look at CarMax Competitors? This post will showcase some CarMax alternatives for you!
Whether you have a great used car to sell after a divorce, or simply want to get rid of a car and downsize, you have some viable options.
This post will explore some CarMax alternatives and allow you to make a sounder decision when it comes to selling your vehicle as well as buying one.
A Brief History About CarMax
CarMax is the country's largest used-car retailer. The company is also a Fortune 500 company. The first CarMax opened its doors on September 1993 in Richmond, Virginia. In November 30 of 2018, the company grew to 195 locations.
In early 2020, CarMax took a try at curbside sales, as industries such as CarMax and others found ways to operate in the wake of the Coronavirus COVID-19 pandemic.
CarMax's curbside pickup program will provide customers a way to purchase vehicles that adheres to the country's physical /social distancing mandates. The company continues to offer home-delivery services to customers as well.
CarMax Competitors – AutoNation As an Alternative
AutoNation is an American automotive retailer that provides pre-owned as well as new vehicles as well as related auto services to the public.
Founded by Wayne Huizenga in 1996, AutoNation has more than 360 retail outlets.
AutoNation has roots in Fort Lauderdale Florida with the company's current Chief Executive Officer being Cheryl Miller at the time of this report.
Buying a car on AutoNation.com
Looking for a used, new or accessorized car? You can find all three on the AutoNation.com website, under the "Shop" section of the site.
You can also use filters such as "used" and "certified" to pinpoint the exact vehicle you want to view.
The photos of the cars for sale are crisp and you can view up to 24 of them per one vehicle.
Based upon your location, you can sort by distance from it and see which vehicles are close by.
Each car for sale has a set of highlights that include:
Exterior
Vehicle history
Engine
Drive type
MPG
Interior
Service history
Transmission and more.
Steps to selling a car on AutoNation
Thinking of selling your car to AutoNation?
You can use their easy-to-use interface to enter your car's specs to get what they refer to as either a "certified offer" or an "estimated value".
Additionally, AutoNation states that they will purchase your car, even if you make no purchase of one of theirs.
Their used car selling highlights include:
A no-hassle method of selling your vehicle
According to AutoNation: "We'll buy your car and you don't have to buy
one from us. So, if you just want to sell your vehicle, we're ready when you are."
Once you get an offer for your car it's "…good for 7 days or 500 additional miles."
With AutoNation, you will receive a certified offer for the sale of your car. And that offer is "…good for cash and guaranteed for 7 days or 500 miles."
You'll get paid on the spot
When you choose to accept your offer, you can bring that offer an your car ready to sell, to any AutoNation store "…and get paid the same day."
 Trade-Ins are Top Notch Too!

You can even trade in your vehicle at AutoNation and they even outline some benefits:
You save time & hassles.
Save money on your taxes.
A trade-in will allow you to reduce the amount of money you have to finance on the vehicle.
Click here to learn more!
CarMax Competitors – Should You Pick Penske Automotive Group Inc. as an Alternative?
According to the Penske Automotive Group Facebook page, the company "… is an international transportation services company that operates automotive and commercial truck dealerships principally in the United States, Canada and Western Europe…"
Penske also has more than a reported 22,000 employees, "… and is a member of the Fortune 500 and Russell 2000."
On the main page of the website, customers have an opportunity to enter specific information to search the Penske inventory.
You can view new cars and trucks as well as used. There is also a tab for locating a dealership near you as well as an opportunity to learn about their employee/partner program.
Buying a car from Penske
During our tour of the site, we found "12210 used vehicles for sale". The vehicles included: a 2017 Acura ILX, a 2017 Buick Envision, a 2014 Cadillac ATS and more.
Customers are able to pinpoint the make of car they are interested in.
And you can even narrow your search by zip code, options and more.
They have various social media connections and outreach too.
Click here to view more!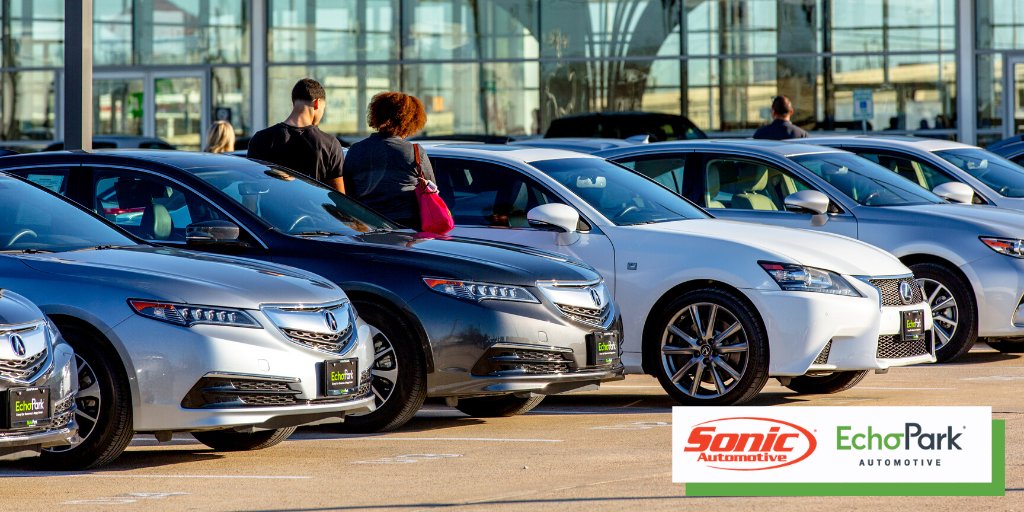 Got Your Sights Set on Sonic Automotive, Inc.?
Are you feeling a bit partial to Sonic Automotive, Inc?
Sonic Automotive, the fifth-largest automotive retailer in the US, has operations in 14 US states.
They also have over 100 stores with over 20 brands of vehicles.
Sonic Automotive was founded by Bruton Smith in 1997 and at the time, only had 20 stores.
As of today, Sonic Automotive is number 298 on the Fortune 500 list of companies.
Looking to shop their vehicles? You can do so by narrowing your search down my cargo van, sedan, SUV, truck wagon and more body choices.
There is also space for you to narrow that choice down to new or used cars, the brand of car you want and more!
And in terms of trading your car in…
You will have a hassle free experience, according to Sonic!
"We will buy your car, even if you don't buy from us! Click here to sell us your car, using Black Book's online tool," states the Sonic Automotive website.
Interested in selling your vehicle? Sonic has three easy steps you can follow!.
"Use Black Book Online – a respected independent service that will share with you what your vehicle is worth today!
Fill out the online form below – telling us as much about your vehicle as possible.
Instantly you will receive the estimated market value – an email will be sent immediately showing the value of your vehicle based on comparable vehicles in your market.
If you are interested in selling us your vehicle, visit us at one of our 100+ locations – participate in an active trade appraisal with a Sonic associate."
Click here to learn more!
Folks are saying…
We found a few reviews about Sonic Automotive and thought we would share some!
Customer Number One
"AVOID Sonic Automotive!
Their dealers Momentum Volkswagen Upper Kirby and Momentum Collision Center Houston will take advantage of you as much as they can. Terrible customer service!"
The customer later stated:
"Finally was able to talk to someone … and solve my problem. Sad to see that some companies (like Sonic) rely on some hero employees to do the work that many cannot."
Customer Number Two
"…went to buy Truck 3/7/20 at Town and Country Toyota Charlotte was shown perfect Truck perfect price told was a 2017…[it] took 20 mins to fall for vehicle…already had finance just need bill of sale with proper appraisal on trade."
Sonic replied:
"…we're disappointed to hear of the negative experience you had at one of our locations. We would like to have a better understanding of your experience."
Customer Number two responded:
"Will give Sonic Automotive credit that they're interested in feedback both positive and negative. [A Sonic Automotive agent] reached out and spoke with me interested in our experience apologized for the experience listened and gave their appreciation to talking with them. Maybe some of our issues will be taken into account in the future."
Customer Number Three
"Such a wonderful experience buying my first Benz from this group. They made my $20,000 purchase feel like I was spending $220,000. I felt right at home in this no pressure family like atmosphere. Your next auto purchase should be from a Sonic Automotive dealership. It's not all about the numbers with these guys, highly recommend."
CarMax Competitors – Is Asbury Automotive Group Always the Best Alternative to CarMax?
Asbury Automotive Group has roots that date back to 1995. The Atlanta-based company has operations in various parts of the country.
Asbury Automotive is the 7th largest automobile retailers in the country and is a Fortune 500 company, like many of its counterparts.
The company operates 80 dealerships as well as 96 franchises throughout 10 states.
Whether you're looking to shop, browse their inventory, buy a car online, calculate your payments, sell, trade or find a dealership near you, you can do it all on the Asbury Automotive Group website.

Buying a car
The inventory for the Asbury Automotive Group ranges from luxury models to great looking SUVs, and everything in between.
You can also narrow your search down my make, model and trim.
Need to perform a more detailed search? Then you can enter your choice of condition of car, pricing and payment, style, color and dealer locations.
What about selling a car or trading one in?
Asbury Automotive uses the Kelley Blue Book website as a valid method of obtaining your car's worth. "Get the best value for your trade from Kelley Blue Book, and either get cash for your car or apply it toward the purchase of your next vehicle," states Asbury Automotive.
They also state that they'll buy your car, even if you don't buy one of their vehicles.
CarMax Competitors – Can You Get A Great Experience At Carvana?
What began as a subsidiary to DriveTime, Carvana has revolutionized the way customers buy cars with their "car vending machines."
In 2014, Carvana separated from DriveTime and now operates as an online dealership for great used cars. Customers are able to buy, sell, trade-in or finance the vehicle the choose.
Additionally, customers can choose to get their vehicles delivered or they can opt to pick up their car from one of the company's car vending machines.
Furthermore, vehicles have 7-day return policy.
Looking to sell your vehicle to Carvana? Visit their website and type in your car's specs to get what they refer to as a real offer.
Here's how selling a car at Carvana works:
Get an offer on your car
After you finish inputting your car's details, Carvana will extend a solid offer to you. They offer "No haggling, no lowballs," adds Carvana.
Trade in your car or sell it
At Carvana you can sell your car and even trade it in. The company allows trade ins on old vehicles for a new one. "Either way, we'll pick it up!", adds Carvana.
Get paid for the sale of your car
Once Carvana performs an on-site examination or appraisal of your car and all is well, they will cut you a check and put it in your hands, or their associate will hand "…over the keys to your new ride!"

CarMax Competitors – Questions to think about
When you are in the market for buying or selling a car, it's important to have options, but more important to formulate a great plan.
So, check out some questions that you should be asking yourself when thinking of CarMax competitors:
What is my objective?
What is your ultimate goal? Do you want a car? Are you looking to make money off of a used car that you have? What do you want to achieve?
How is the credit? Will you qualify for financing?
If your have less-than-stellar credit, you may have to put down a larger down payment on your vehicle.
You may even take the time to rebuild your credit or work to get blemishes off of it, before you go to finance your vehicle.
What kind of car do you want?
If your CarMax alternative specializes in a specific kind of car and offers a great price, you may gravitate to that company. But knowing what you want, helps.
Are you a knowledgeable car seller?
If you are looking to sell your car, do you know is general value? Have you gone to the Kelley Blue Book website to get a general value for your car?
The more detailed you are about the questions above, will help your car buying or selling experience go smoothly.
So, choose you CarMax competitors wisely. You have lots of alternatives when it comes to buying as well as selling a car!